All Products
4 Brioche Burger Buns
Product Description
Golden like a Parisian sunset, soft and curvaceous. Our brioche burger buns are made for you to take your time. Add some French mustard to yours to take your loved ones taste buds on a trip to Paris.
4 Pre-sliced Brioche Burger Buns
America's best selling branded Brioche Burger Bun
Non-GMO
Authentic French recipe
Ingredients
Unbleached Wheat Flour, Water, Egg, Sugar, Invert Sugar, Canola Oil, Bakers Yeast, Wheat Gluten, Butter, Skim Milk, Salt, Natural Flavoring, Mono- and Diglycerides, Milk Proteins, Malted Rye Flour, Dried Yeast, Beta-Carotene Color.
Contains: Wheat, Eggs, and Milk.
Suitable for Vegetarians.
Codes & Palletization
| | |
| --- | --- |
| Unit UPC | 811669020243 |
| Unit Dimensions (L x W x H) | 9.4" x 4.3" x 3.5" |
| Unit Weight (NET) | 7.0 OZ (200G) |
| Units Per Case | 18 |
| Case UPC | 00811669020489 |
| Case Dimensions (L x W x H) | 23.3" x 15.6" x 8.3" |
| Case Weight (Gross) | 9.7lbs |
| Ti x Hi | 5 x 11 |
| Shelf Life once Thawed* | 28 days |
Thawing Instructions
*Thawing instructions:
Defrost at room temperature for a minimum of 6 hours
Defrost at 4°C for a minimum of 24 hours
Nutritional Information
Downloadable Assets
Product Packshot
Burgers Made Magnifique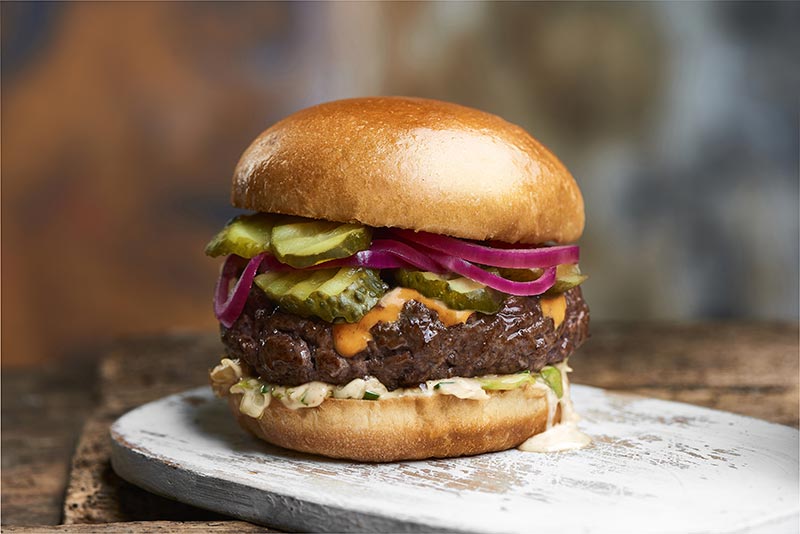 Brioche Beef Burger
Brioche Breakfast Burger
Beetroot Burger
Breakfast Autumnal Burger
Breakfast Fried Eggs Burgers On A Board
Chocolate Burgers
Double Brioche Cheese Burger
Fried Chicken Burger
Garlic Burger Buns
Grilled Chicken Burgers
Loaded Burger
Meatball Marinara Burgers
New York Deli Burger
Night Burgers
Portobello Mushroom Burger
Pulled Pork Burger
Salmon Egg & Avocado Breakfast Brioche Burger
Savory Brioche Buns Brunch
Sticky Toffee Apple Pudding
Slow Roast Pork & Apple Sauce
Soft Shell Crab Brioche Burger
Truffle Mushroom Burger
Tuna Steak Burgers
Turkey Stuffing Cranberry Brioche Bun
Vegan Burger
Aperol Cream Bun
Cauliflower Burger
Mexican Burger
Steak & Fries Burger
Cincinnati Chili Burger
Nutella & Banana Sandwich
Sloppy Joe
All Products